Upcoming Events
October 23-31 is this year's Red Ribbon Week, and ADAC is celbrating all month!. The National Red Ribbon Campaign is the oldest and largest drug prevention program in the nation reaching millions of young people each year. P.A.R.T.Y. is holding Red Ribbon rallies in every school throughout our 12-county area with the theme "Say Peace Out to Drugs!" Everybody is encouraged to wear red clothing each Friday in October, sign a drug-free pledge banner, and find other ways to participate.
Know someone at risk for heroin/opioid overdose? Register now for Free training Wednesday, October 25, 2-5 p.m. at Angelina College Community Service Building or for the session Thursday, October 26 9 a.m. to noon at the Beaumont Holiday Inn. Learn how to reverse an opioid/heroin overdose with Naloxone. Co-sponsored by ADAC and Texas Overdose Naloxone Initiative (TONI). RSVP to Chris at clogan@adacdet.org. See the brochure on our Facebook page for details.
December 9 will be this year's Reindeer Run. It's time to take the opportunities to get involved by donating or sponsoring or volunteering! Call the office (936) 634-5753 to let us know how you will help! And the registration page is now open, too, at https://www.active.com/lufkin-tx/running/distance-running-races/reindeer-run-2017 so get your walking/running shoes (and body) in shape and plan to participate! Discounts are available to youth who are involved in a running group, if the group registers. Lots of fun, for a good cause (the only fundraiser for ADAC for the year).
The 2017 Regional Needs Assessment (RNA) is in the finalization stage and will soon be available with updated information about our 15 county region. Look for it on this website and at the PRC website!

Recovery Life, a supportive family component for families of ADAC clients kicked off in May and is continuing through June and beyond. The goal for the family groups is to reduce relapse through family support and involvement to individuals in recovery. Families were invited to four fun and informational nights (Monday-Wednesday and Tuesday-Thursday) with participation in games and enjoying snowcones and snacks. The pilot project continues through the end of June on both Tuesday nights from 6 to 7 and Friday mornings from 10 to 11. The adult family members will meet in a group setting while the school-age children will participate in activities provided by ADAC staff with experience in visiting kids in their Youth Prevention work throughout the year. The schedule for meetings will be regularly re-assessed to assure the needs of clients and their families are being met. Please join us!
Recent News
Region 5 PRC 2016 Regional Needs Assessment (RNA) has been released. 2016 Regional Needs Report
Recovery Day in the Park was held Saturday, September 30th, 2017 at Grace Dunne Richardson Park in Lufkin. It was FREE, hosted by ADAC to celebrate those in recovery. There were speakers, food, booths, and fun activities for kids of all ages--fun for the whole family! See photos on our Facebook page.
FREE Smoking Cessation Classes were offered in September: At ADAC 5:30-6:30 on 9/11,13,18 and 20. At American Cancer Society 5:30-6:30 on 9/6, 13, 20 and 27. Call The Coalition for more information about future classes: 936-634-9308.
P.A.R.T.Y. and Youth Prevention staff continued working with youth and other groups during the summer, assisting various community groups. Crafts and various activities to give people healthy alternatives to dangerous summer activities were provided, along with lots of summer fun, bringing healthy, educational, interesting, fun activities to young people who might otherwise be nonproductive or even be tempted to turn to misuse of alcohol or drugs during the summer break.
A TOWN HALL meeting to address prescription misuse, including opioids, was held Monday, June 19 at the Community Services Building of Angelina College in LUFKIN from 6 to 8:30 pm. and another meeting was held ~~Wednesday, July 19 at the Elegante Hotel in BEAUMONT from 2 to 5 p.m. Attendees heard from state HHSC staff and local community representatives and then had time to provide comments and suggestions. The goal of the Town Hall is to develop a statewide strategic plan and community-based social marketing/public education plan to increase awareness of prescription drug misuse, the need for a coordinated approach, and promote increased use of Prescription Drug Monitoring Program (PDMP) data.

A FREE training by Census staff was held in Lufkin, from 9 a.m. to 3 p.m. Wednesday, June 14 at the Impact Lufkin location, 105 N.Lofton. Participants learned how to find and effectively present Census data for reports, proposals, analyses, grants, business plans, etc. Co-sponsored by ADAC's PRC and Impact Lufkin.

The Big Puppet Show featuring Leo the Drug Free Lion presented by the P.A.R.T.Y. department at various sites throughout March, April and May was a big success again this year. The show was titled "Speak Your Mind" and warned children about the dangers of tobacco use.

Corrigan – Camden ISD presented an award to the Alcohol & Drug Abuse Council's Youth Prevention Selective Program on April 20th. This award is from The Texas Association of School Boards recognizing "your unselfish willingness to go the extra mile for schools is an inspiring testimony to your generosity and priorities. Your partnership with the schools in your area is meaningful and effective, and we want you to know that we deeply appreciate what you are doing". Check out the ADAC Facebook page for photos.

The Prom Project, a community outreach from ADAC to benefit girls who need prom dresses, shoes, purses, makeup, etc, provided over 140 students with a "shopping" opportunity at no cost. The community is asked to continue to contribute dresses and other items throughout the year in preparation for next year's prom season. Thanks to the Vendor Mall behind the potato bar on Frank for our "store" location and thanks to Rubie and Jane for donations and referrals.

Go to the Resources tab to look for "Facing Addiction in America; The Surgeon General's Repport on Alcohol, Drugs, and Health." Chapter 3 covers Prevention.

FREE Frestart smoking cessation classes started Tuesday April 25 and Wednesday April 26. Call The Coalition to indicate interest in future classes (936) 634-9308.

The YPS Program taught a 10-session drug-free curriculum to 5th graders at Central Junior High School Campus starting on February 23rd.
Per Nacogdoches Community And Neighbors (NAC-CAN) Coalition: the Teen Night/Valentine Dance Friday Night, February 10, 2017 was a big success thanks to the help of many volunteers and prize donors. The four stations were busy all evening (driving simulator, jenga, drunk goggles, and photo booth). The student winner of the TV was proud saying his mom would be so happy because they don't have a TV at their house.
Our own Cecil Stark, Prevention Specialist, is featured on the San Augustine school website for our programs in 3rd, 4th, and 5th grades. It comes complete with photos and an explanation of the curriculum. Visit: San Augustine Grade School
A Benefit Concert was held February 2, 2017 featuring Mike Farris, 2015 Grammy Award Winner and a wonderful entertainer who has the experience of having gone through treatment. We enjoyed his performance at the Pines Theater in Lufkin.
The P.A.R.T.Y. Department published the latest version of the ADAC newsletter, the Informer, ADAC Informer Winter 2017
January 23–29, 2017 was National Drug Facts Week, a national health observance for teens to promote local events that use NIDA science to SHATTER THE MYTHS about drugs.
"Speak Your Mind" a Community Conversation on Teen and Young Adult Mental Health and Drug Use was held for Shelby and San Augustine Counties on January 30, 2017 from 6 to 8 p.m. The Pineywoods Family Outreach Center at 255 Haley Ave., Center TX 75935 hosted the event with thanks to Vanessa Davis for coordinating the evening including food and the local speaker.
The Lufkin Christmas Parade included an ADAC float with Leo, the Drug-Free Lion. Kids along the route recognized Leo as having been at their school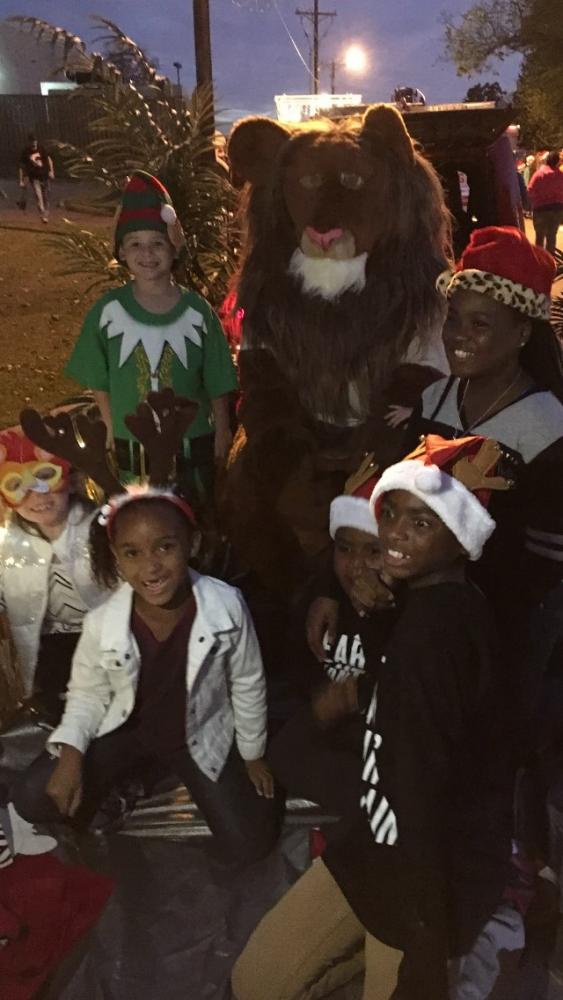 Kids and Staff enjoy Lufkin 2016 Christmas Parade with Leo the Drug-Free Lion
Fun at the November 28, 2016 Lufkin Christmas Parade
December was Food Bank Donation Month. By making a donation to your food bank, you are helping to ensure that hungry children in Southeast Texas are adequately nourished, that none of our senior citizens are forced to chose between medicine and food, and that every family facing a crisis can at least have the assurance of food on the table.
December 1 was World AIDS Day designed to encourage public support and programming to prevent the spread of HIV infection, provide awareness and education about HIV/AIDS and demonstrate compassion for those infected or affected by HIV.
Saturday, December 10 was ADAC's first Reindeer Run, a 5k chipped run and a Kid's run at the zoo. It was a great day and thanks for your support!
A large crowd of runners and supporters gather for the start of the Reindeer Run 1k event.
A little Winner at the ADAC Reindeer Run, December 10, 2016
Another happy Winner at the ADAC Reindeer Run
5k Ready, Set, ...