Upcoming Events
FREE Frestart smoking cessation classes will start Tuesday April 25 or Wednesday April 26. Call The Coalition to register (936) 634-9308. See details here FREE Freshstart Information Flyer
FINAL DAYS! The Prom Project, a community outreach from ADAC to benefit girls who need prom dresses, shoes, purses, makeup, etc. The girls will be able to "shop" for free items. The community is asked to contribute by announcing the project, encouraging girls to participate, transporting girls to the site, and donating items. We receive the donations and give them out girl by girl. LAST TWo DAYS this year: Thursday, April 27 hours: 2 p.m. -5 p.m. AND Saturday, April 29 hours: 10 a.m.-2 p.m. at the vendor mall behind the potato bar on Frank.
Go to the Resources tab to look for "Facing Addiction in America; The Surgeon General's Repport on Alcohol, Drugs, and Health." Chapter 3 covers Prevention.
The Big Puppet Show featuring Leo the Drug Free Lion will be presented by the P.A.R.T.Y. department at various sites throughout March, April and May. The show is titled "Speak Your Mind" and is a warning to children about the danges of tobacco use. Watch for details about when and where they will be close to you!
Recent News
Region 5 PRC 2016 Regional Needs Assessment has been released. 2016 Regional Needs Report
The YPS Program taught a 10-session drug-free curriculum to 5th graders at Central Junior High School Campus starting on February 23rd.
Per Nacogdoches Community And Neighbors (NAC-CAN) Coalition: the Teen Night/Valentine Dance Friday Night, February 10, 2017 was a big success thanks to the help of many volunteers and prize donors. The four stations were busy all evening (driving simulator, jenga, drunk goggles, and photo booth). The student winner of the TV was proud saying his mom would be so happy because they don't have a TV at their house.
Our own Cecil Stark, Prevention Specialist, is featured on the San Augustine school website for our programs in 3rd, 4th, and 5th grades. It comes complete with photos and an explanation of the curriculum. Visit: San Augustine Grade School
A Benefit Concert was held February 2, 2017 featuring Mike Farris, 2015 Grammy Award Winner and a wonderful entertainer who has the experience of having gone through treatment. We enjoyed his performance at the Pines Theater in Lufkin.
The P.A.R.T.Y. Department published the latest version of the ADAC newsletter, the Informer, ADAC Informer Winter 2017
January 23–29, 2017 was National Drug Facts Week, a national health observance for teens to promote local events that use NIDA science to SHATTER THE MYTHS about drugs.
"Speak Your Mind" a Community Conversation on Teen and Young Adult Mental Health and Drug Use was held for Shelby and San Augustine Counties on January 30, 2017 from 6 to 8 p.m. The Pineywoods Family Outreach Center at 255 Haley Ave., Center TX 75935 hosted the event with thanks to Vanessa Davis for coordinating the evening including food and the local speaker.
The Lufkin Christmas Parade included an ADAC float with Leo, the Drug-Free Lion. Kids along the route recognized Leo as having been at their school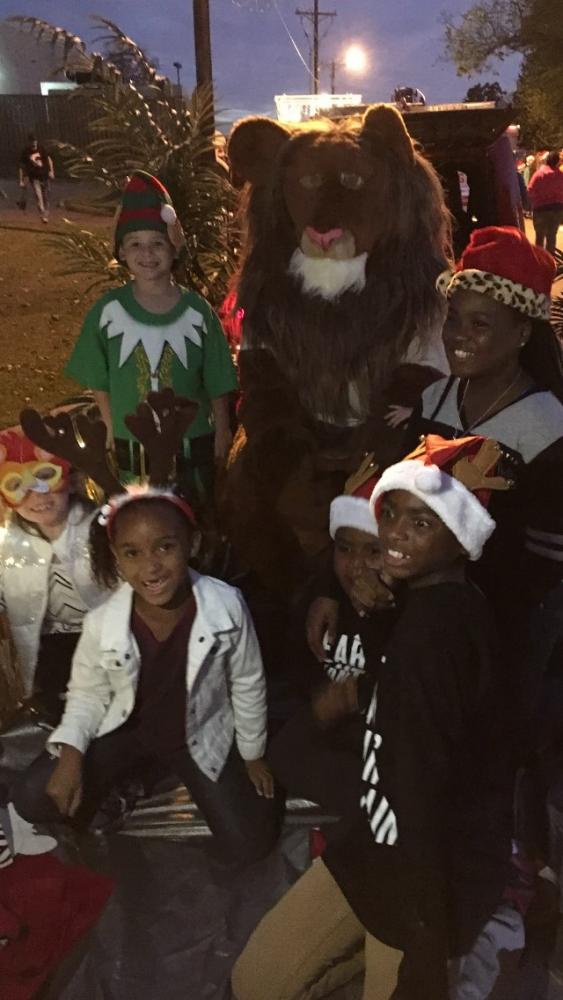 Kids and Staff enjoy Lufkin 2016 Christmas Parade with Leo the Drug-Free Lion
Fun at the November 28, 2016 Lufkin Christmas Parade
December was Food Bank Donation Month. By making a donation to your food bank, you are helping to ensure that hungry children in Southeast Texas are adequately nourished, that none of our senior citizens are forced to chose between medicine and food, and that every family facing a crisis can at least have the assurance of food on the table.
December 1 was World AIDS Day designed to encourage public support and programming to prevent the spread of HIV infection, provide awareness and education about HIV/AIDS and demonstrate compassion for those infected or affected by HIV.
Saturday, December 10 was ADAC's first Reindeer Run, a 5k chipped run and a Kid's run at the zoo. It was a great day and thanks for your support!
A large crowd of runners and supporters gather for the start of the Reindeer Run 1k event.
A little Winner at the ADAC Reindeer Run, December 10, 2016
Another happy Winner at the ADAC Reindeer Run
5k Ready, Set, ...